Comparative Analysis of Rules of Origin in Member Countries of Pacific Alliance and Free Trade Agreements
José Roberto Concha V.

David Heilbron

Maria Alejandra Suarez
Keywords:
Pacific Alliance, Regional Integration, Rules of Origin, Trade Agreements
Abstract
The objective of this paper is to compare the rules of origin between the regionalintegration agreement Pacific Alliance and the Colombia free trade agreements withChile, CAN and G3, in order to determine if there are significant differences betweenthem. During this research, evidence shows that there are differences in the rules of originamong free trade agreements, this could generate incentives to the exporter in theposition of choosing a specific trade agreement. The main conclusion is that not always the best option to export to Chile, Mexico or Peruis through the Pacific Alliance, as would be expected to be the most recent agreement.The choice of agreement depends on the merchandise to be exported, so it isrecommended to look for the tariff subheading beforehand and to analyze which treatywould be most beneficial to export, according to its characteristics and composition. 
Downloads
View per year:
Download data is not yet available.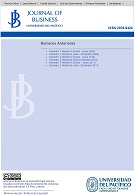 How to Cite
Concha V., J. R., Heilbron, D., & Suarez, M. A. (2016). Comparative Analysis of Rules of Origin in Member Countries of Pacific Alliance and Free Trade Agreements. Journal of Business, Universidad Del Pacífico (Lima, Peru), 8(1), 2-34. https://doi.org/https://doi.org/10.21678/jb.2016.74