Colombia and India: Trade Relations, Investment and Exchange Opportunities
Mauricio de Miranda Parrondo

José Tomás Peláez Soto

Sebastián Velandia Campos
Keywords:
Trade Colombia-India, Colombia, India, Comparative Advantages Revealed, International Trade, Foreign Direct Investment
Abstract
The study purpose is to characterize trade and investment relations between Colombia and India in the last ten years (2005-2015). Both trends and trade structure between these countries helped to reveal the exportable products which has the potential strengthen the bilateral relationship. In addition, the behavior of India's investment in Colombia is analysed, both in terms of trends and sectoral structure, as well as the number of jobs generated in this South American country and this is contrasted with the investment of other Asian countries. For the analysis of trade relations, three official statistical sources were used: Trade Statistics for International Business Development (Trademap), National Administrative Department of Statistics of Colombia (Dane) and the Commodity Trade Statistics (Comtrade) of the United Nations. fDI Markets was used for the analysis of foreign direct investment. The Bela Balassa Revealed Comparative Advantage Index was used in order to identify the revealed comparative advantages of each country. Revealed comparative advantage index and import intensity index identified 15 Colombian products with expansion opportunities in Indian market, a significant contrast with the indexes showing 155 Indian products with expansion opportunities in Colombia.
Downloads
View per year:
Download data is not yet available.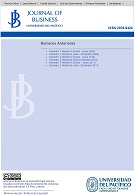 How to Cite
de Miranda Parrondo, M., Peláez Soto, J. T., & Velandia Campos, S. (2016). Colombia and India: Trade Relations, Investment and Exchange Opportunities. Journal of Business, Universidad Del Pacífico (Lima, Peru), 8(1), 91-109. https://doi.org/https://doi.org/10.21678/jb.2016.78